Export Revit to Lumion | Model import guidelines for Autodesk Revit and Revit LT
You can also click here. The best laptops for Lumion in 2023
1. Install the Lumion plug-in for Revit
1.1: Please follow the instructions in this article to download and install the plug-in for your version of Lumion and Revit:
Revit LT: See section 4 below.
2. Export/Import to Lumion

2.1: Method A: LiveSync (direct/live) export/import
With Lumion LiveSync for Revit and Lumion 8.3 and newer, you can immediately set up a live, real-time visualization of your Revit 2015-2023 model. Make sure that you have selected a 'Perspective 3D View' in Revit (see also section 5.12 below) before clicking on the LiveSync button.
(If you are using Lumion 8.0 and older, please see section 2.2 Method B below)
2.1.1: Click on the play button to Start LiveSync.

LiveSync is now running:

2.1.2: Before starting LiveSync you can change the Settings, or click on the Stop button and then change the Settings.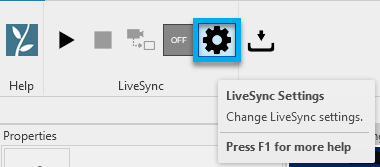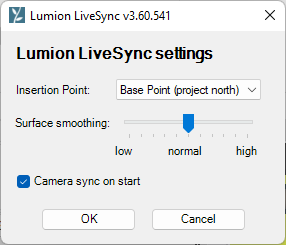 2.1.3: If you hold down the SHIFT key when clicking on the LiveSync Settings (cog) button, you will see more options: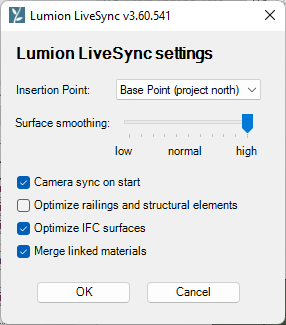 See section 3 below on Settings.
We recommend exporting/importing the model via LiveSync rather than via .DAE format as it is faster and requires fewer resources.
2.2: Method B: Export to Lumion (Collada .DAE file)
If you prefer to export your model via a file (or if you are using Lumion 8.0 and older), you can export a Lumion Collada file (.DAE) file from Revit using the Lumion LiveSync for Revit Export button in the palette. This file can be imported directly into Lumion.
2.2.1: Click on the Export button

2.2.2: Select the desired export options: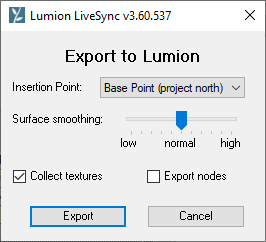 2.2.3: If you hold down the SHIFT key when clicking on the Export button, you will see more options: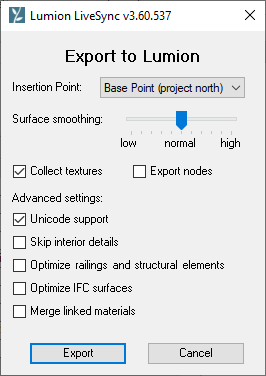 See section 3 below on Settings. These Settings vary from those available for LiveSync.
3. Settings
Options for which setting is dependent on use of either LiveSync (direct/live) or Export to Lumion as above in section 2.
3.1: Insertion Point:
In Revit, you can mark the Base Point and Survey Point in your project. The Lumion exporter settings let you define one of those as the Insertion Point in Lumion.
If you choose Base point as the Insertion Point, then 'project North' is taken into account.
If you choose Survey point as the Insertion Point, then 'true North' is taken into account.
3.2: Surface smoothing:
The Surface Smoothing slider lets you define how detailed curvy surfaces should be.
Setting it to the maximum value can have a serious impact on the time it takes to import the model as well as on performance and render speeds in Lumion.
For that reason, we recommend setting the slider to the lowest possible value that still ensures that curvy objects look reasonably smooth.
3.3: Collect textures:
If ticked, all of the textures that are used by the Revit model will be placed in a folder in the same location as the .DAE file. This tickbox should remain ticked if you need to import the .DAE file on a different computer.
3.4: Export nodes:
This tickbox should only be ticked if you have prepared a special model for 'node' replacement in Lumion. There is more information about this process in the following article:
3.5: Unicode Support:
This tickbox is only required for legacy naming conventions and should normally never be ticked.
3.6: Skip interior details: If you select this option then these Revit Categories are not exported:
Casework
Communication Devices
Data Devices
Duct Terminal
Electrical Equipment
Electrical Fixtures
Fire Alarm Devices
Furniture
Furniture Systems
Generic Model
Lighting Devices
Lighting Fixtures
Mechanical Equipment
Model Text
Nurse Call Devices
Plumbing Fixtures
Security Devices
Specialty Equipment
Telephone Devices
3.7: Optimize railings and structural elements:
This tickbox lets you export railings, roofing elements and structural elements with fewer details to prevent Revit from crashing. Please note that section planes in Revit are not supported when this tickbox is ticked.
3.8: Optimize IFC surfaces:
If ticked, IFC surfaces will use far fewer materials which can help prevent very low framerates in Lumion.
3.9: Merge Linked Materials:
Merge the same material in linked Revit models to a single material in the model for Lumion.
4. Importing models from Revit LT
Revit LT does not support other plugins such as our LiveSync for Revit plugin.
4.1: Install the DWG plug-in in Lumion if you are using version 9.5 or older:
Lumion 10.0 and newer: No plug-in installation is necessary.
Revit LT 2018-2021 and Lumion 8.0-9.5: Please install DWGToLumionBridge2018 and export to .DWG 2018 file format.
Revit LT 2017 and Lumion 6.5 or 7.x: Please install DWGToLumionBridge2017 and export to .DWG 2013 file format or older.
Download Link: Download Lumion DWG plug-in
4.2: In Revit LT, click on File -> Export -> Options -> Export Setups DWG/DXF: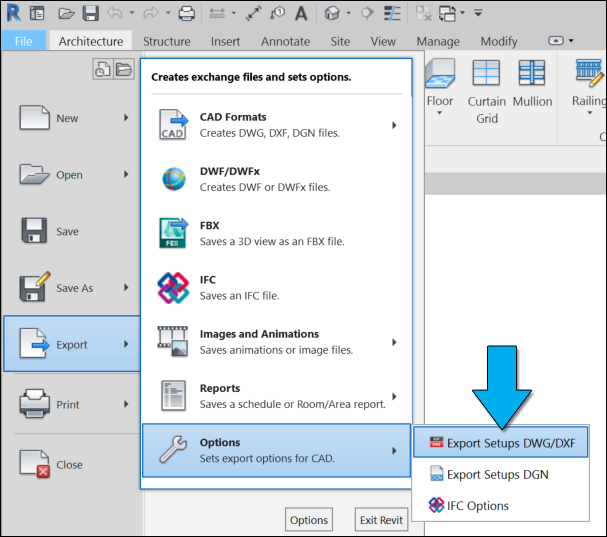 4.3: Click on the Layers tab and select 'Export category properties BYLAYER and overrides BYENTITY':

4.4: Click on the Colors tab and select 'Specified in view (True Color – RGB values)':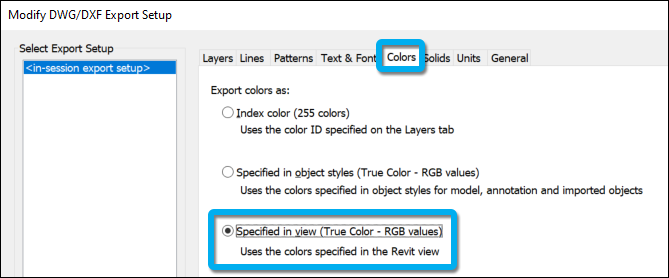 4.5: Click on File -> Export -> CAD Formats -> DWG to export the model and then import it in Lumion.
Please note that textures are not transferred correctly from Revit LT to Lumion due to Autodesk limitations in the exported .DWG file.
Different materials may also be combined for certain building elements, so you should assign a unique color to the material that you do not want to be merged before exporting the model.